BE THE CHANGE

CIVIC ENGAGEMENT PLATFORM
BEAMDATA (SAAS START-UP) — SPRING/FALL 2020


Role
Lead Designer

Responsibilities
Narrative building, product inclusion, market research, user testing, feature ideation, prototyping, branding, marketing

Tools
Adobe Xd, Figma

Team
Ikjong Choi
Joseph Kim
Overview
Be the Change is a civic accountability app that uses real-time community input to empower issue advocacy, direct outreach to elected officials, and meaningful community action.

In November 2019, I joined the beamdata team to create the logic and visual flow for our flagship digital product. Now, I am the lead designer handling design, product management, and marketing for our app along with a web version coming soon.
Be The Change
piloted in Pittsburgh with Senator Jay Costa in the App Store August 6th, 2020.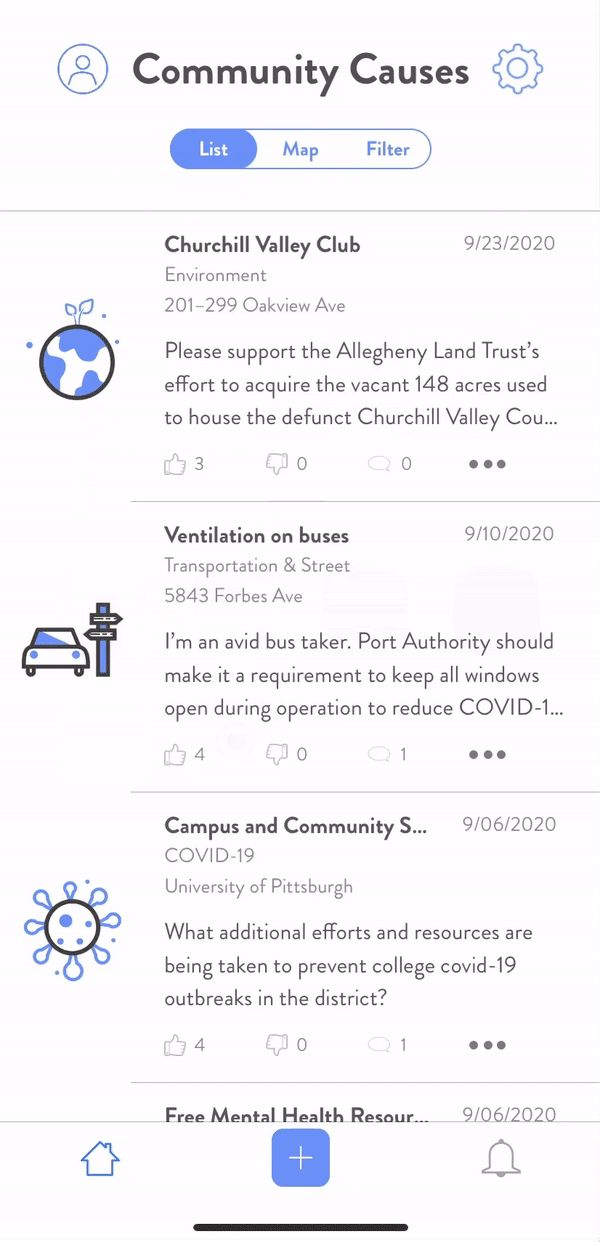 Final Design
Key Features ︎︎︎
📬
Get a response 100% of the time.
No more ignored emails or full inboxes.

Whenever or wherever you make a post, your state representative or senator will get a notification and respond within 48 hours.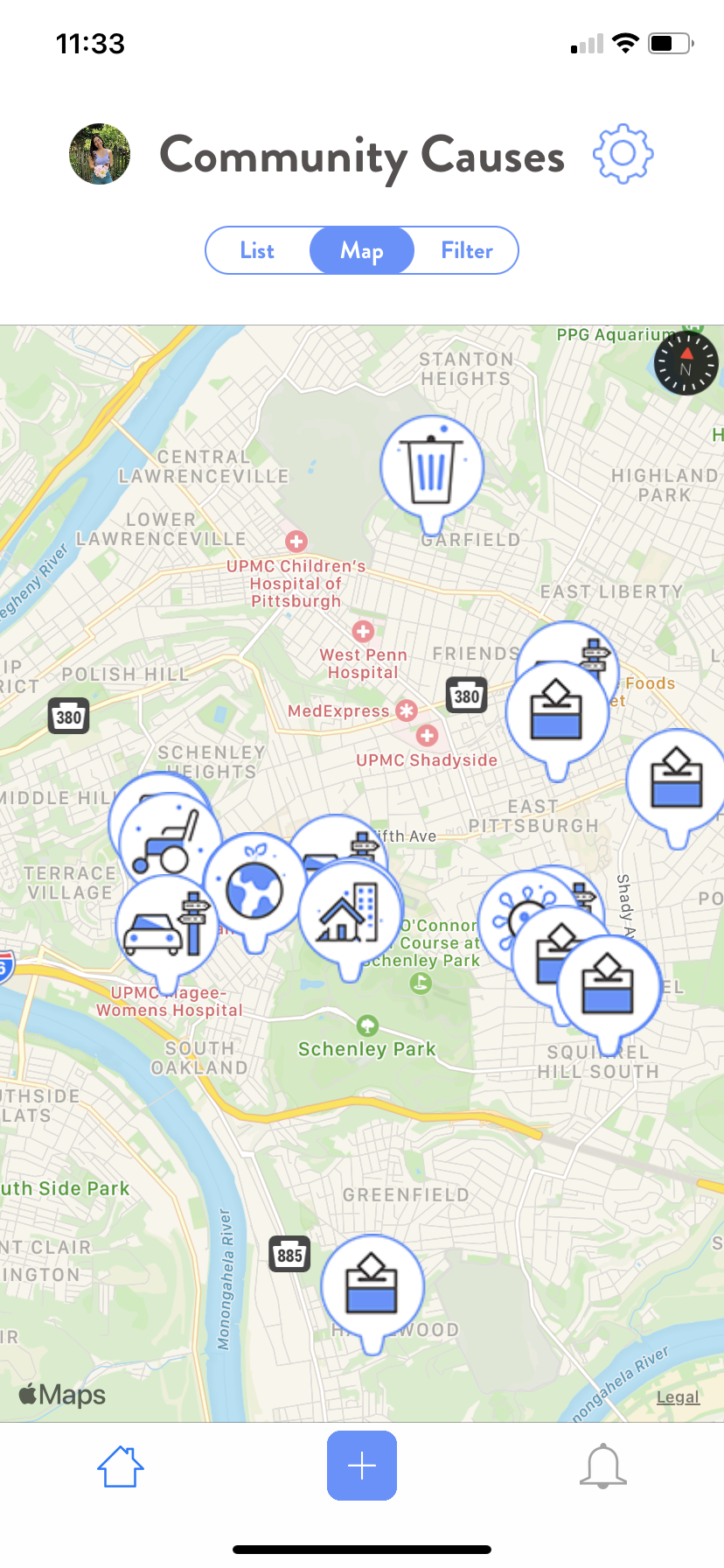 📋
Get accurate session hearings and legislative information from the source.
This feature summarizes details and info from PA senate hearings and relays key details for constituents including outcome and how legislators voted.
🚀
Personalized features for constituent and elected official needs.
Elected officials will have engagement insights including the ability to create events whereas general users can only create and participate in discussions.
Competitive Analysis ︎︎︎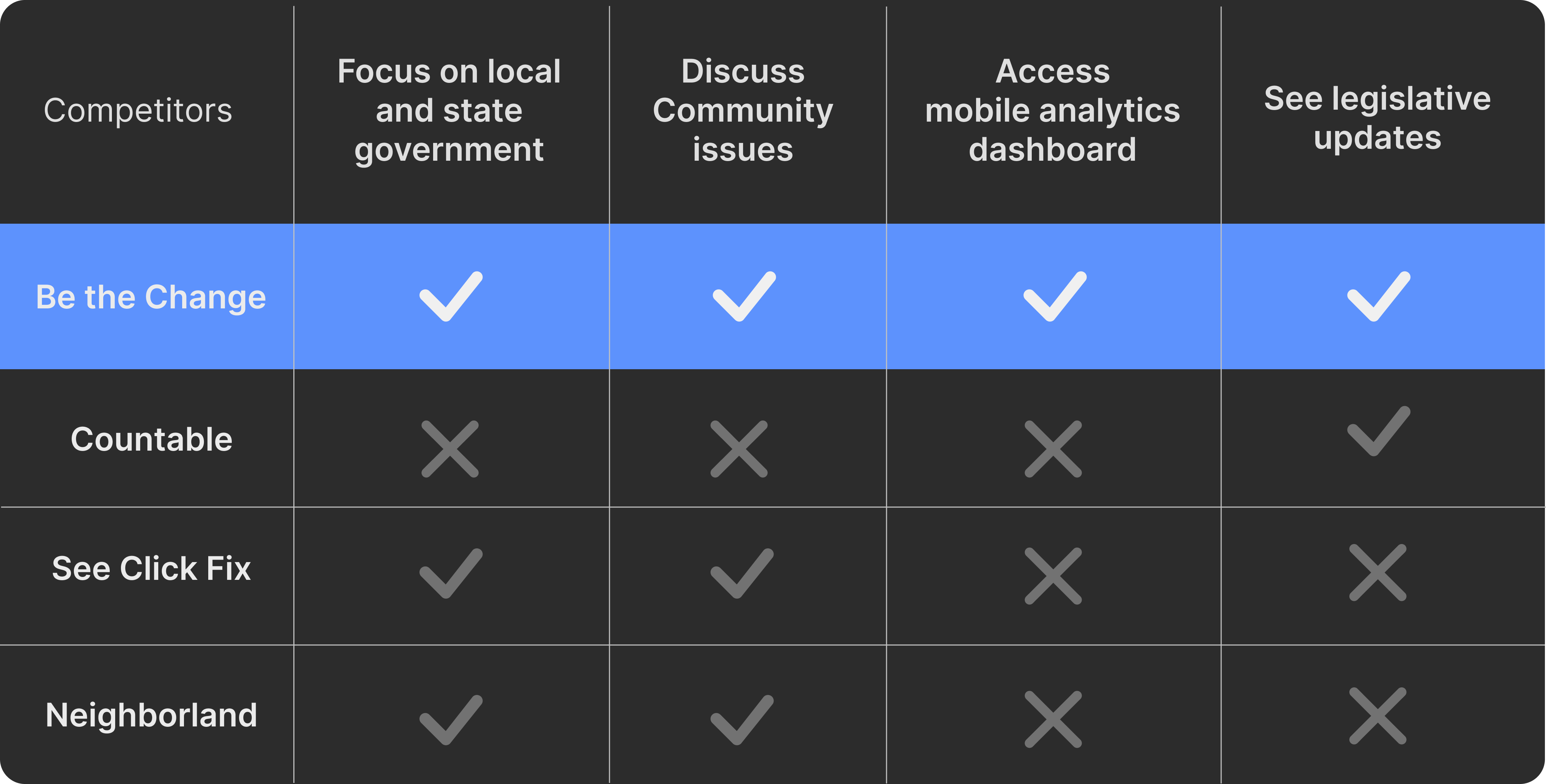 📍️ Product Inclusion

Equal number of monthly users across Pittsburgh neighborhoods



💬️ Diverse Content

Similar number of posts in each issue category every month



🍯 Stickiness


48 hour response time from elected officials
20% stickiness ratio in 6 months

1. Develop an equitable digital community that is on par with in-person civic engagement.
2. Modernize the way constituents connect with their local and state elected officials.

3. Educate and built community relationships as a trusted, reliable resource
Problem Space
Elected officials have trouble connecting with their constituents outside of the vocal minority.


Initial Problem Discovery

---
Young, low-income, and minority citizens have lower political efficacy and community involvement because voting and other forms of civic engagement are often viewed as non-essential due to other stressors.


Revised Discovery
---
Technology is adapting, but government services and products aren't.
Without an online presence, people often aren't aware of who their elected officials are and what they stand for.
Digging into the Landscape
What are the current forms of digital activism?

Goals:
To understand student activism and civic engagement experiences
To understand where the pain points were in the process
To learn general service fixes from a macro viewpoint beyond voting
Findings Over Time
After analyzing the interviews through a codebook, there were consistent emerging themes that either boost or hinder college students' desire to be civically engaged. Icons indicate most frequent responses from interviews.
Developing Personas
Where do the pain points overlap?

Based on the research supplemented with some secondary research and discussions with elected officials, I was able to pinpoint pain points of elected officials currently along with those running for office.
Pain Points:
Difficulty gathering information on neighborhood issues
There are challenges in keeping the community updated
Poor allocation of resources
The Concept
What if users could report problems and get real-time updates from district leaders and their community?

Building the Architecture
Building site flows early on helped me determine the navigation hierarchy over time. Understanding the bird's eye view guided where new features and priorities fit throughout the design process.
Mid-fi Prototypes
The initial prototype tested our biggest risk factors surrounding reporting and community engagement.
After launching our MVP, I was able to get user feedback in the weeks following on all features along with the overall experience, from small tweaks to big UI changes including the font family due to legibility issues.
Findings from MVP Trial
Variance in the types of issues reported.

While our intended use is for Be the Change to not be a reporting app, the majority of posts still fell in that threshold; however, there were a significant handful of posts that fell in the arena of creating awareness and leveraging this as a tool for digital petitioning.
We began to develop the next fuller iteration based on these findings of hopefully pushing the quality of posts more towards one of social and community activism rather than one of reporting.
Dynamic Causes with a New Typeface

We wanted to emphasize our initial goal of building a stronger digital community with a feedback loop so we included a new feature for state reps and senators to update users on legislative decisions made in session. To keep information hierarchy clear, I decided to split the action into separate pages with new icons.


Images Included in List View


Users preferred to see the images before expanding each post otherwise it felt like an overwhelming "digital space brimming with problems" as one user described it. The text-heavy appearance causing low retention rates on the home page. Previously, attached images only appeared when the post was expanded. This made the list view in the home page rather homogenous with each post undifferentiable from the last.
Before — Focus on GenZ and millennials with onboarding focus on advocacy and political protests for civic engagement.

Users and stakeholders felt this concept was more anarchist than educational due to imagery and color options. The primary focus of the app is to act as a facilitator for political engagement for all ages and also for the older generations and elected officials.




After — llustration focus to prevent partisan bias, acting as a friendly facilitator for all ages (constituents and elected officials)


Users and stakeholders felt this branding was more trustworthy and represented government officials. The illustrative style makes it more friendly and doesn't limit the user base to just older users.




Design System
Reflections + Insights
🌊 High interest from elected officials, waves of interest from constituents.
Interest patterns follow traditional media reporting.
👩🏻‍💻 Success in how we've built relationships with local communities and investors. Working on facilitating fruitful discussions.
Many users use Be the Change like NextDoor where discussions turns into trolling, reporting, or complaining.
🌟 Having a mutual sense of ownership over the product is essential in a team.

As the lead designer, shouldering extra work is okay sometimes but make sure it doesn't take away opportunities for your team members to connect with the process.
🧐 Technology is a great tool for advocacy, but it's often used in a way that reinforces inequitable practices.

Continuous user research + discovery is a must!